Special message from Dr. Salah
My Dear Brothers and Sisters,

Assalamu alaikum warahmatullahi wabarakatuhu

This is my message to you, to congratulate you all for the blessed month of Ramadan. I pray to Allah from my heart to make us all among the accepted and to free us from the hell fire in this noble month.

I also wish to inform you that Mishkah University has started the process of accreditation in the United States. With the grace and help of Allah, a team of experts in the field that was dedicated to achieving this goal has succeeded in preparing the University both administratively and academically for this purpose.

Mishkah University, a non-profit and tax exempt institution, specializes in teaching authentic Islamic knowledge online both in English and in Arabic. Since it was established 10 years ago, Mishkah strives to make middle ground Islamic knowledge accessible around the world, with a variety of programs. You can learn more about these programs here on our web site.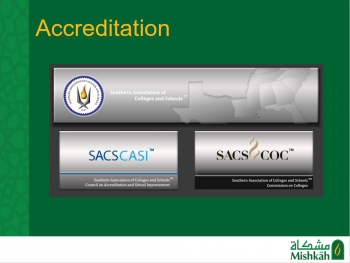 To continue achieving its goals, Mishkah University seeks your cooperation and help. We currently need to raise $1,000,0000 which will be spent on the purchase of our headquarter building and on the accreditation expenses so that Mishkah University becomes the first accredited Islamic online university in the United States.

We pray to Allah to make your contributions a continuous charity where you get the reward of all those who learn in the University and those who learn from them wherever they go in the east or the west.

May Allah, bless you and accept your good deeds and grant you the guiding light that will precede you and on your rights in the hereafter, Ameen.

Wassalamu alaikum warahmatullahi wabarakatuhu

Your brother who loves you in Allah's sake and who is praying for you in secret

The Chairman of the Board of Founders of the Islamic University of North America, Mishkah