Accreditation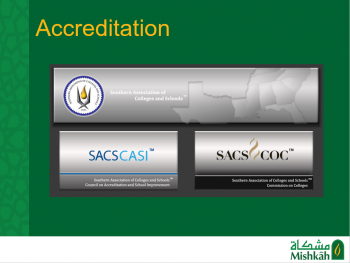 Mishkah University has begun preparations for the process needed to apply for accreditation.  The University intends to initiate the application process with the Southern Association of Colleges and Schools Commission on Colleges (SACSCOC) and aims to be the first Islamic online university to receive accreditation.
In addition, the commission of Florida Department of Education accepted the Islamic University of North America (Mishkah University)'s Affidavit as having complied with Section 1005.06(1)(f), Florida Statutes to religious institutions.
In March 2009, the University shares mutual recognition with Al-Jinan University in Tripoli, Lebanon (Jinan.edu). It is also working to establish academic ties and mutual recognition with other Islamic universities around the world.
In May 2014, the University established an agreement for academic and educational collaboration with Fatih Sultan Mehmet Vakif University in Istanbul, Turkey.