Professional Certificate of Teaching Arabic as a Foreign Language to Non-Arabic Speakers (PCTAFL)
This special program focuses on enabling students to master Arabic and be qualified to teach it to non-Arabic speakers.
Admission Prerequisites:
A Bachelor's degree in the Arabic language from an accredited and recognized university.
Passing a personal interview to determine eligibility.
Duration of Study
Ten months comprised of 120 hours of study including Arabic writing.
Fees:
$1800 (not including fees for preliminary mandatory courses required for students who do not have a bachelor's degree in the Arabic language)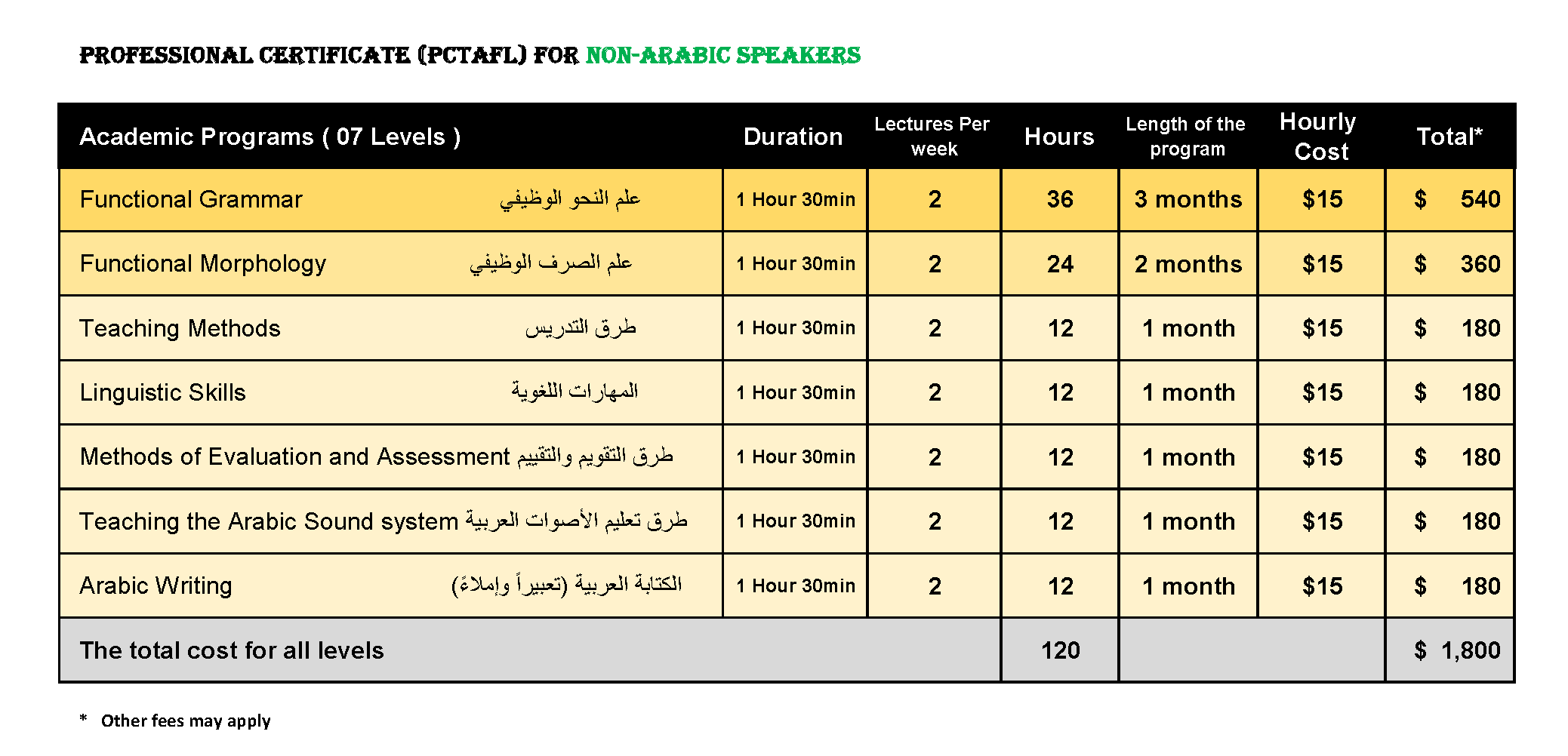 Supplementary Tools of Study
Functional Language Sciences by Dr. Abdu Ar-Rajhi.
Al-Marge' in Teaching Arabic for the non-Arabic Speakers by Dr. Tuaima.
Ways of Teaching Arabic Language by Dr. Mahmoud An-Naqa.
Language Skills Objectives
Our objective in this special professional program is fluency in listening and communication skills alongside with reading and writing. The student is expected to be capable of teaching non-Arabic speakers, and accomplish the following:
The various daily interactions in every aspect of life
The courage to utilize the language with confidence
Practicing the teaching methods and the linguistic skills.
Becoming skilled at reading comprehension of the contents of the chosen materials.
Comprehending some of the fundamentals of functional grammar and functional morphology.
Completely mastering the fundamentals of writing Arabic and teaching.
Methods of Evaluation and Assessment
Exercises for listening, pronouncing, writing, Qur'anic recitation, alongside developing vocabulary and word structure during each class.
Exercises in the notebook – 15% of the total grade.
Classroom activities, participation, and attendance – 10% of the total grade.
Final analytical exam – 75% of the total grade.
Please Note:
If the applicant does not have a bachelor's degree in the Arabic language, but has a bachelor's degree in a different field from an accredited, recognized university;
He/She must have a certificate that proves extensive Arabic studies and mastery, which qualifies him/her to teach Arabic to other speakers.
Passing the personal interview to determine eligibility, is required
The applicant must also study the following preliminary courses prior to beginning the (PCTAFL) diploma courses:
Preliminary Courses: These courses are taught through live sessions along with pre-recorded videos: