Beginner's Level Book 3
1. The Duration of Study
36 hours over three months (two lectures a week, each lasts for 1.5 hours).
2. The Book of Study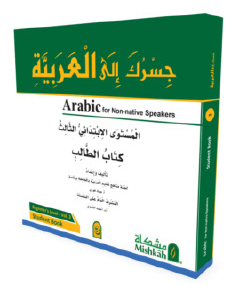 Book 3 of "Your Bridge to Arabic" Series, which is the 1st publication of the Islamic University on the subject of studying the Arabic language for non-native speakers.
3. Supplementary Tools of Study
Pictures and diagrams.
Video Recordings of Dialogue.
4. Language Skills Objectives
It should be noted that this section of the curriculum focuses on teaching many terms and expressions that enable the student to attain a degree of fluency in the language, whereby he can communicate using them in the various aspects of daily life.
In addition to the previously learned skills during Beginner 1, our objective in level 2 is increased fluency in these listening and communication skills alongside the ability to read and write. The student is expected by then to be capable, after having understood, of performing the following:
Using the interaction ways mentioned in the book regarding mastering in in listening, reading conversation and writing.
Practicing on how to use the interaction terms in a right way.
Engaging in creative dialogues based on appropriate usage of linguistic collocations of words and terms in different situations.
Becoming skilled at reading and comprehension of the contents of the curriculum.
Comprehending some of the fundamentals of Arabic grammar as the verb tenses and all various types of pronouns in the Arabic language.
Completely mastering the fundamentals of writing the remaining Arabic letters that resemble one another in naskh script.
5. Methods of Evaluation and Assessment
Skills exercises for listening, pronouncing, writing, Qur'anic recitation, alongside developing vocabulary and word structure during each class.
Focusing on the exercises in the notebook – 15% of the grade
Classroom activities, participation, and attendance – 10% of the grade
Final exam – which is mostly an analytical exam – accounts for 75% of the grade
Fees : $360
Studies are Divided into the Following Levels: